Best of the Best
MudGear
Graduated Men's and Women's Compression Socks
Tops our list for performance, looks, customer service. You won't find a better pair with more to offer for your active lifestyle.
Guaranteed fit, attractive style, and graduated compression. Comfortable for most, and they tend not to fall down. Good customer support.
A few reports of holes and tears with normal use. The material can be warm in hot weather.
Best Bang for the Buck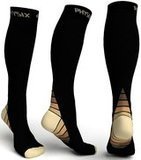 Physix Gear
Compression Socks
Affordable, easy-on compression socks designed for use on swollen legs and varicose veins,
Unlike some other products, these are suitable for people with thicker legs. Some pregnant women have found them very helpful.
A few complaints that the socks left red marks on the legs.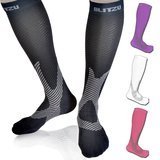 Blitzu
Performance Compression Socks for Men and Women
Worth considering if you stand on your feet all day, but may be too constrictive for some activities and larger individuals.
Provides comfort for most all-day wearers. Durable material. Comes in several colors.
Fit is a bit tight and on the long side. The fit tends to get even tighter after washing.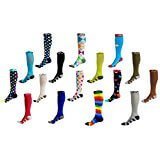 A-Swift
Compression Socks for Women and Men
A good choice for those who like the colorful selection, but these socks might not work for shorter individuals.
Antibacterial and deodorizing fabric. Available in a wide range of stylish colors and patterns.
Too long on individuals with short legs.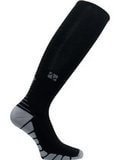 Vitalsox
Graduated Compression Performance Socks
A sound option for athletes, but these socks might not be practical for all consumers who require compression.
Patented graduated compression is ideal for athletes. Unique Silver Drystat stops bacteria growth.
Fit loosely compared to others and might not provide the best compression for everyday wear.